ENRgHy is Bourgogne-Franche-Comté's answer to the call for projects for "Hydrogen Territories" launched by the Ministry of the Environment, Energy and the Sea in May 2016, the objective of which was to certify major demonstration projects implementing the Hydrogen energy vector in the territories.
ENRgHy, is the first step along the roadmap, coordinated by the Bourgogne-Franche-Comté Region, for a strategic regional commitment to the development of a Hydrogen Energy sector within its territory.
ENRgHy will make it possible to finance 7 new projects involving 3 territories.
7 projects in Bourgogne-Franche-Comté
2 facility development projects for the national sector
ISTHY, the national platform for Hydrogen storage
A project involving the creation of a French certification and requalification centre for storage systems, as well
as a training and R&D centre, making it possible to anticipate technological developments.
HYBAN, a high-power test bench
Launch of an industrial test bench for high-power (100 – 120 kWe) PEMFC and HT PEMFC Fuel Cells – essential for placing 'full fuel cell power' vehicles on the market – to supplement the Fuel Cell platform equipment in Belfort.
5 experimental projects
HyCAUNAIS, the 1st project to pair up anaerobic digestion and methanation
A project for upcycling the by-product CO2 present at the Saint-Florentin landfill site by way of methanation. The Hydrogen needed for this process is itself a product of wind power production.
VHycTor, a refuelling station for Hydrogen produced by Inovyn
A project involving the construction of a Hydrogen refuelling station, which will be supplied by an industrial by-product gas source and transported under high pressure.
EOLBUS, a French pilot project combining wind-power and transport
Creation of a Hydrogen production (through water electrolysis), storage and refuelling station supplied by renewable energy and, more specifically, the wind turbines surrounding the city. With European certification, the project will have 5 buses as well as light-duty vehicles on the roads by 2019. The goal is to convert the entire bus fleet by 2025.
NewMHyLL, Hydropower and Hydrogen
An economic viability test on autonomous solutions using low-pressure Hydrogen by developing "zero emission" tourist services with soft, urban and water mobility solutions being made available.
HyDATA, double-action stationary Hydrogen Energy for a data centre
A project for supplying a data centre with power via an autonomous system using Hydrogen produced by renewable energy to implement a backup application.
Hydrogen in Bourgogne-Franche-Comté
Hydrogen ecosystem in Bourgogne-Franche-Comté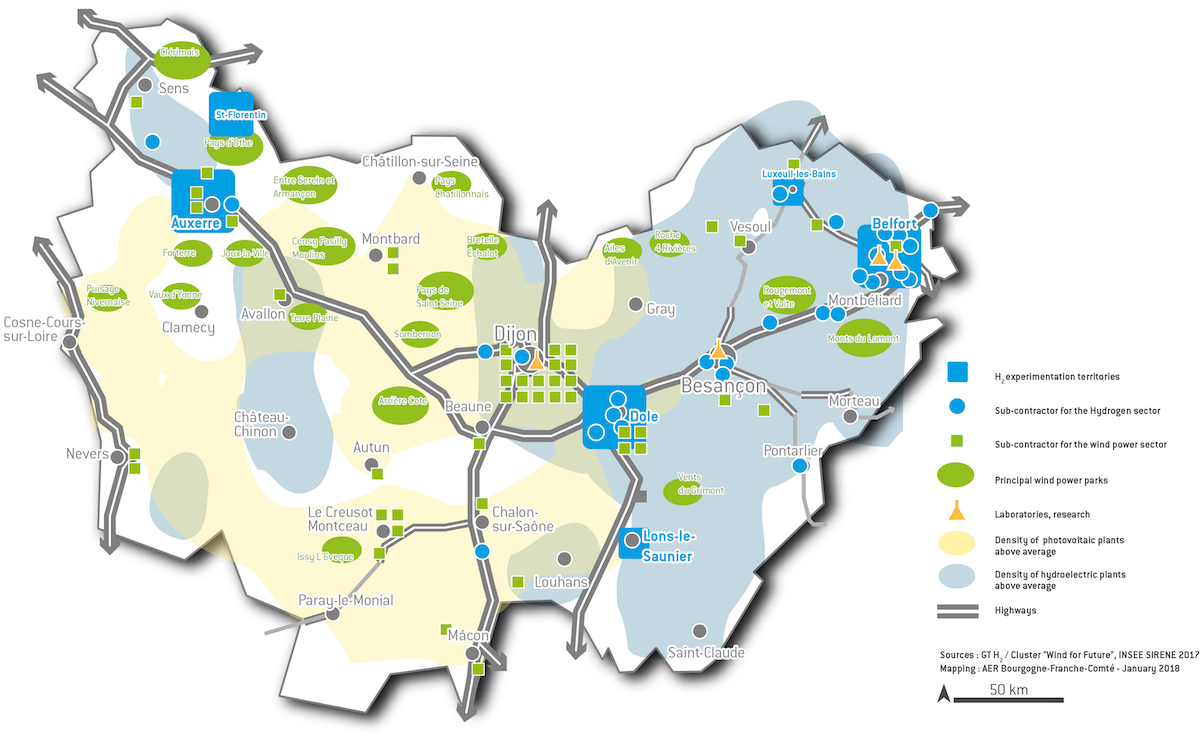 Industrialists ahead of the curve
The local presence of an industrial network specialising in metal and material processing and expertise in surface treatment are valuable assets for ensuring the comprehensive manufacturing of tomorrow's Hydrogen systems.
Metal pipework, polymer membranes, valves, sensors, surface treatment and microtechnology are all areas of expertise found in the region, making it a future territory for Hydrogen and the manufactured Fuel Cell environment.
Leaders and businesses
Alstom, Delfingen, Faurecia, Gaussin, H2Sys, Justy, Mahytec, Presse Étude, Schrader and more
Research & Innovation, a trailblazing spirit
FC-LAB – CNRS FEDERATION
A unique research federation in Europe bringing research together with high-performance engineering on the topic of Hydrogen.
FUEL CELL FACILITY
One of Europe's largest public facilities intended for research, testing and industrial transfer focused on Fuel Cell Systems (900 m² of testing space for test powers of just a few watts up to nearly 200 kWe).
ICB LABORATORY
Developing advanced materials, studying their durability, processes and reactivity phenomena with solid/solid and solid/gas interfaces.
INSTITUT FEMTO-ST
Hybrid systems, energy management, static
convertors, systemic optimisation, energy convertors, health status diagnostics, service life prognosis, fault-tolerant control, integration into transport and stationary applications, solid-state storage.
Education & training to dream up and design the energy systems of tomorrow
A ONE-OF-A-KIND MASTER'S ENGINEERING COURSE (CMI) IN FRANCE
The Hydrogen Energy and Energy Efficiency CMI offered by the University of Franche-Comté is a 5-year programme in the energy production and management engineering trades for students who will become experts in the fields of energy efficiency and clean energy, with specific expertise in Hydrogen Energy (production, transport and stationary applications, etc.).
The territory provides a large and varied range of qualifying, targeted training courses organized according to precisely identified needs. The courses are designed and implemented, both content and pace, to constantly adapt to scientific and technological developments: short or long degree courses, through initial training, apprenticeship training or continuous training.
Partners involved in assisting businesses
PÔLE VÉHICULE DU FUTUR CLUSTER
Pôle Véhicule du Futur is an automotive and mobility Cluster for vehicles, mobility solutions and related services. It brings together and leads an ecosystem of 420 members in the Bourgogne-Franche-Comté and Grand Est regions. It unites companies, public research organisations, educational bodies and regions together around R&D innovative projects, industrial performance improvement programmes as well as new training and skills, with a business objective.
Through its actions for competitiveness, the Cluster contributes to creating wealth and jobs in the area.
Since its creation in 2005, the Cluster has been the driving force of the Hydrogen and Fuel Cell dynamics in Franche-Comté and Bourgogne. The challenge is to support the emergence of a Hydrogen industrial sector, helping companies in the sector to diversify towards components of the Hydrogen traction chain. In partnership with national bodies, such as AFHYPAC and the Mobilité Hydrogène France coalition, the Cluster participates in multiple studies and monitors calls for specific projects.
WIND FOR FUTURE CLUSTER
The cluster's goal is to develop synergies between businesses and the wind power sector in Bourgogne-Franche-Comté. Wind for Future promotes the development of business and collaborative projects in France and abroad and refers member companies to major contractors. It helps to promote the professions and know-how, innovation and training needs of staff. The cluster has taken an interest in Hydrogen as a way of storing wind energy.
MECATEAMCLUSTER
MecateamCluster is a National Centre specialized in the design and maintenance of railway machinery equipment. Its aim is twofold, firstly to provide innovative solutions to improve the processes of construction or regeneration of infrastructure, and on the other hand, to find patterns for the reorganization of the maintenance of construction equipment in order to optimize its operation.
In the frame of its program "railway yard of the future" which objective is to create a safer and less polluting environment at the railway sites, MecateamCluster thoroughly studies machinery and equipment electrification solutions from the technology of Hydrogen. Many tracks are now being studied.
Other partners
Resources