Eco-innovation is an approach for continuing improvement which "consists in integrating the environment from the initial conception of a product or service and throughout its life cycle" (AFNOR definition / 2004). It is for all types of business in all areas of activity and for all types of product.
With the financial support of ADEME Bourgogne Franche-Comté and Conseil régional de Bourgogne-Franche-Comté, AER BFC proposes for the region's businesses:
a free and confidential diagnosis
strategy deployment aid
and contacts with the partner network
Every other year, the "Eco-innovate in Bourgogne-Franche-Comté awards" reward the initiatives and projects of the region's research businesses and laboratories by honouring products and services or technologies that are moving towards a sparing economic and industrial system and minimizing impact on the environment. Be the next award winners! 
Tools and resources are also available for you: visit our eco-designed* website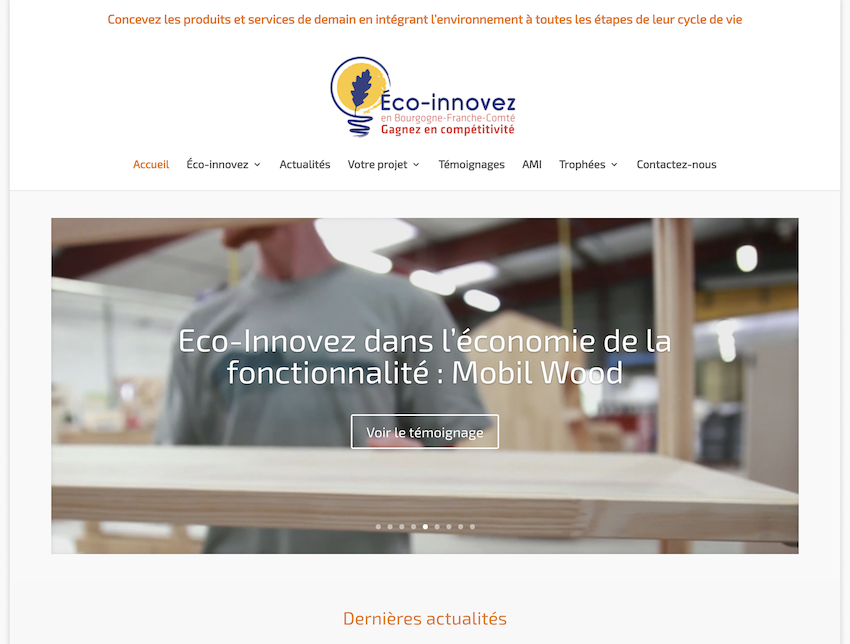 This site, an information treasure trove, will help you to find:
business testimonials
events
various information on calls for projects, regulations, new eco-designed materials or technologies
*The ecological footprint of web sites has exploded in recent years mainly because of poor design. Evidence of this is the weight of web pages, which have been multiplied by six between 2008 and 2015. The software eco-design approach, applied to the Web, significantly reduces these impacts and the costs of sites, while improving their performance and so their user satisfaction. Source: Frédéric BORDAGE, "Eco-conception web: les 115 bonnes pratiques : Doper son site et réduire son empreinte écologique"