A strategic position at the heart of Europe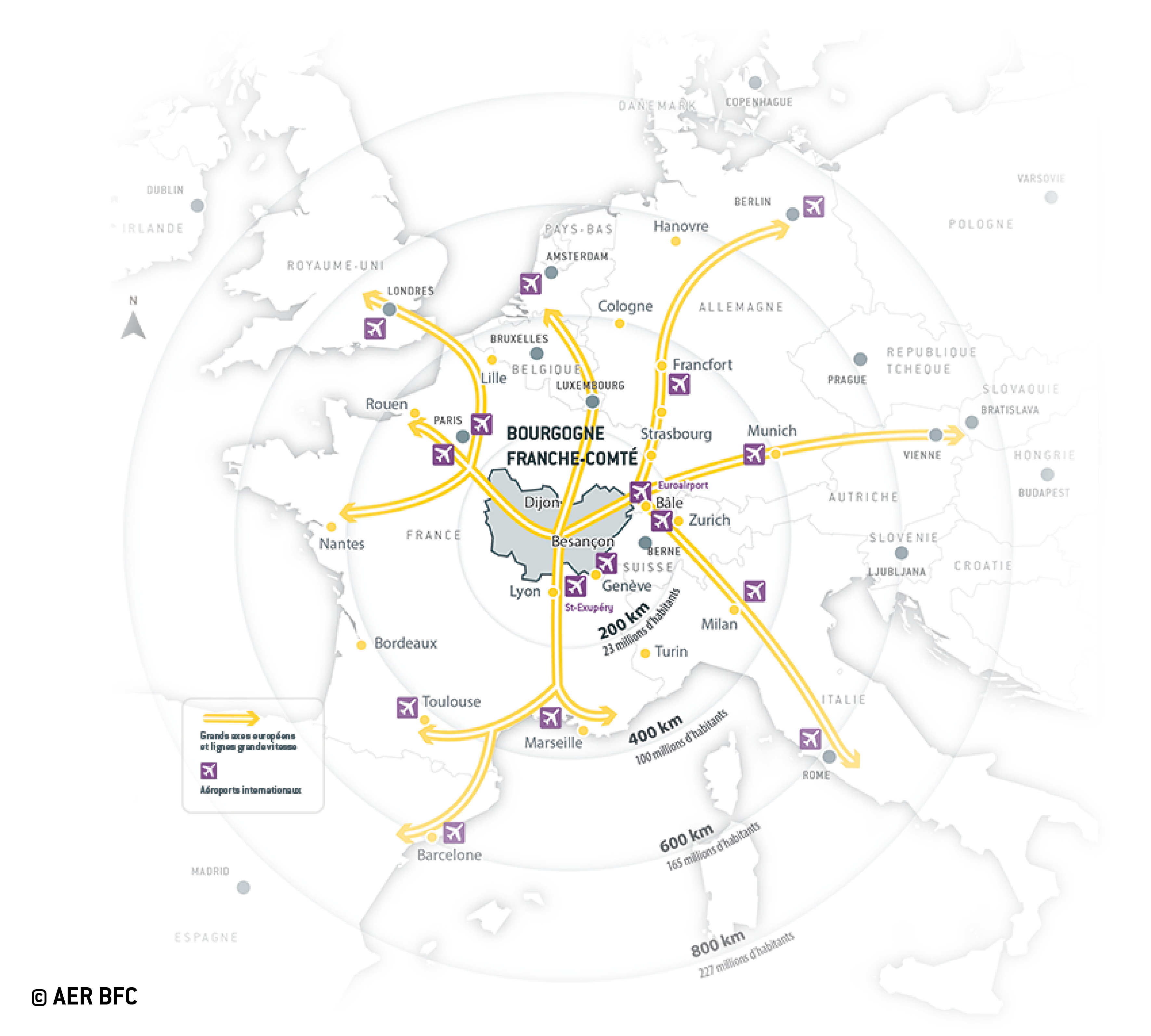 Bourgogne-Franche-Comté is strategically placed and provides a favourable environment for companies wanting to establish or develop their business. Bourgogne-Franche-Comté shares a 230-km border with Switzerland and is close to two regional and six international airports. Mobility is also facilitated by fourteen TGV stations providing the most extensive rail network in France. The region has nine motorways and 1,330 km of internationally recognised navigable waterways. Its position is unquestionably strategically conducive to cross-border and international entrepreneurship.
– 42 million inhabitants within 4 hours of Bourgogne-Franche-Comté's centre of gravity
– 230 km of shared border with Switzerland and preferential cross-border cooperation
– 1h34: Travel from Dijon to Paris in 1 hour 34 minutes (TGV)
– 2h08: Travel from Besançon to Paris in 2 hours 8 minutes (TGV)
– 6 international airports nearby and 2 regional airports
– 14 TGV stations
– 9 motorways forming a strategic crossroads
– 1,330 km of internationally recognised navigable waterways
Foreign Direct Investments
5th place for attractiveness
The turbulence in the global economy has had no impact on the number of foreign direct investment (FDI) projects in Burgundy-Franche-Comté, or on their growth. In fact, in 2022, Burgundy-Franche-Comté attracted 133 foreign investment projects, compared with 117 in 2021, a clear 14% increase on the previous year. This attractiveness is reflected in the creation or maintenance of 3,193 jobs. The increase in the number of projects and the number of jobs has continued for several years, demonstrating the real interest foreign investors have in our economy.
Industrial know-how and a competitive workforce, vectors of regional attractiveness
1 project out of 2 is in the production sector, creating more than 2,000 jobs for skilled workers, who are highly valued by foreign investors.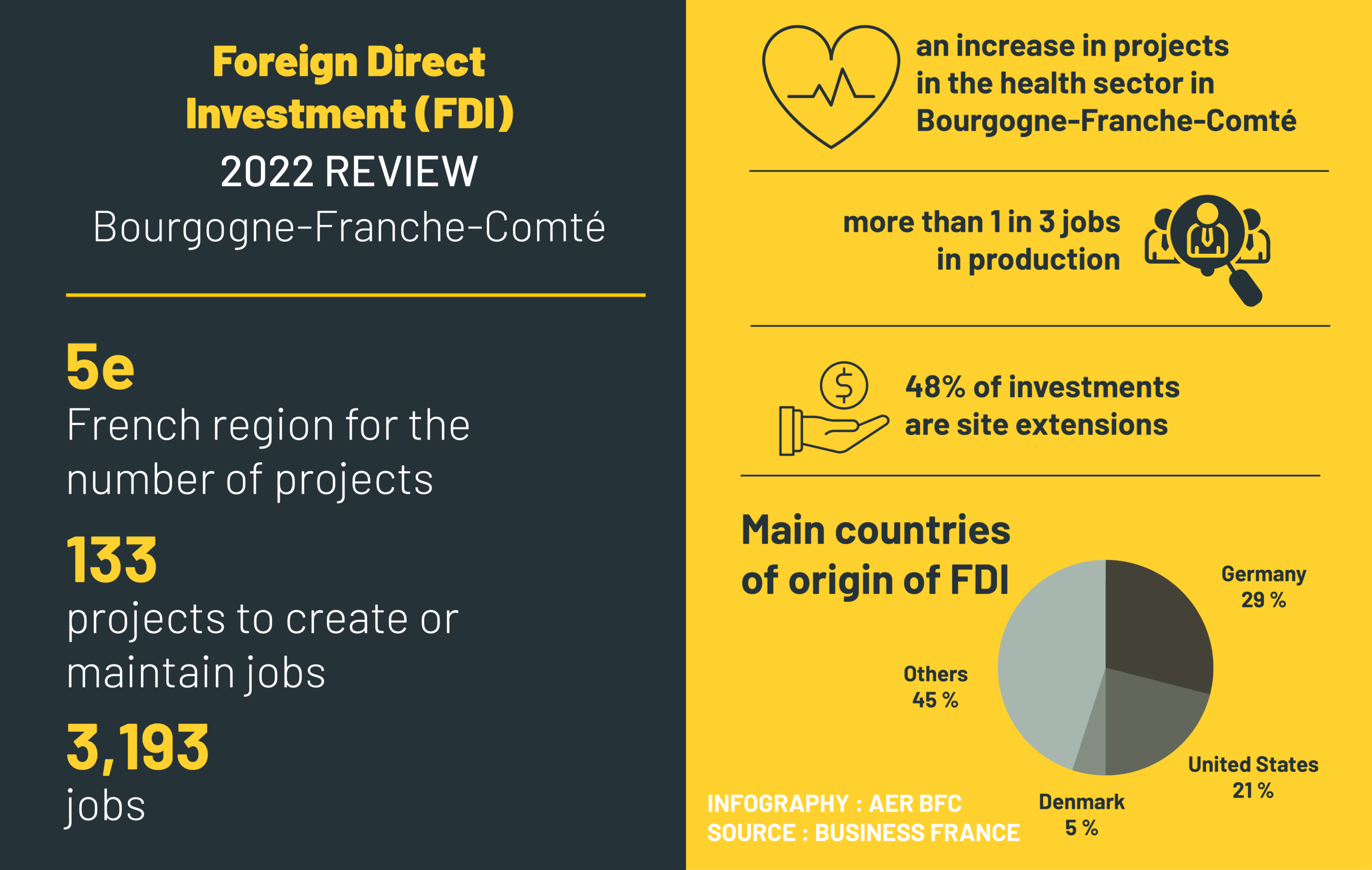 A region of industrial excellence
Strong industry and well-known businesses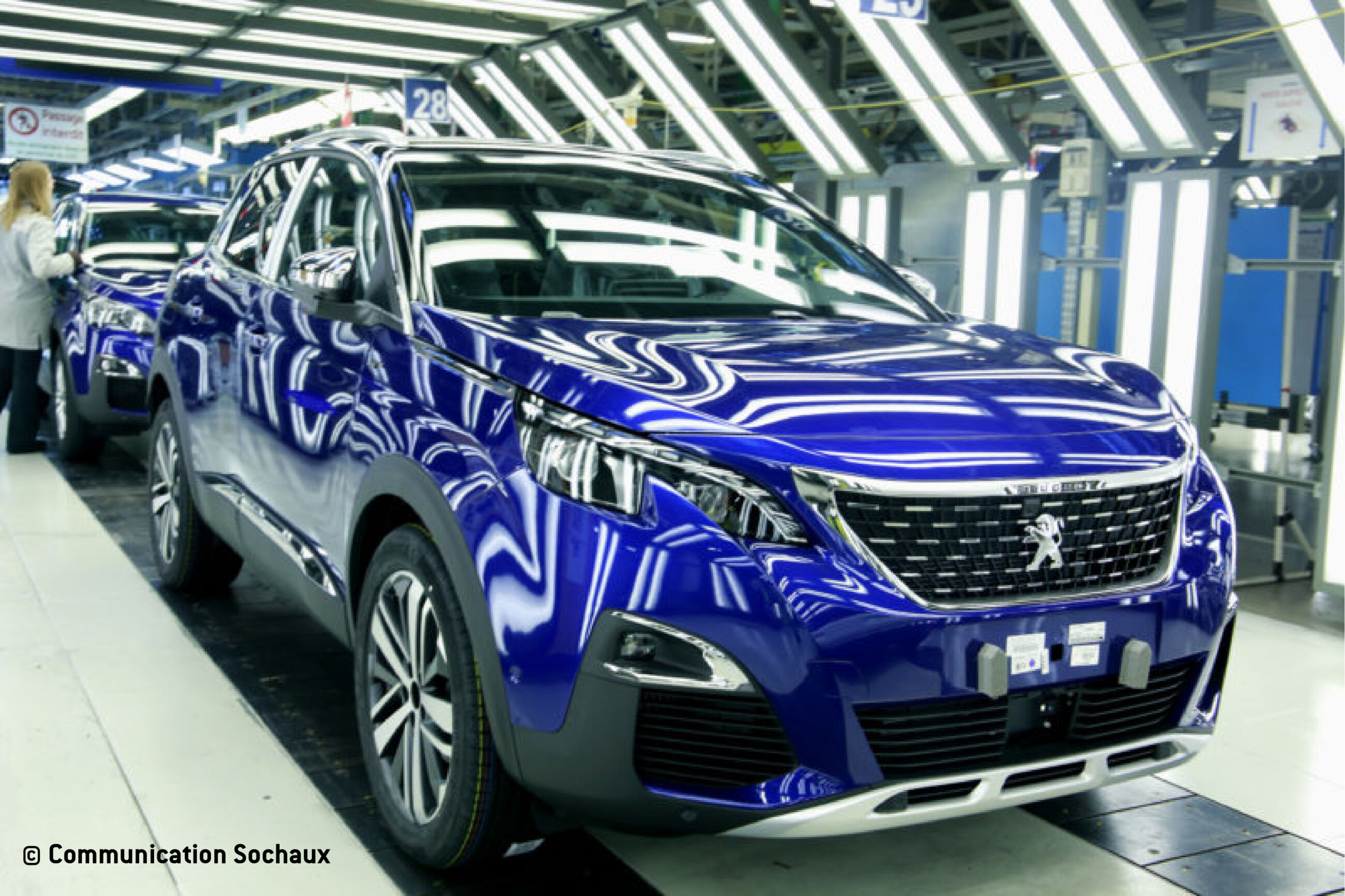 Bourgogne-Franche-Comté is home to a robust industrial fabric and internationally recognised companies. The region is also sought after for its traditional know-how in food processing and agriculture. It has six competitiveness clusters and a gross domestic product (GDP) of €81.7 billion. The Region is considered to be one of industrial excellence:
– Bourgogne-Franche-Comté is the top region for the number of industrial and salaried employees (approximately 1 employee in 5 works in industry)
– 1st region for private investment in R&D (amount of expenditure by private companies)
– Almost 60% of industrial employees specialise in mechanics, metallurgy, transport equipment, food processing or plastics
– 19,300 industrial establishments
– 10 industrial areas
Bourgogne-Franche-Comté region also stands out for its efficient and reactive ecosystem:
– 6 competitiveness clusters
– 16 clusters
– 12 technology facilities
– 14 high-end service incubators
Remarkable growth
As indicated by the figures, strategic choices made in investment in research, innovation, education and training, and industrialisation have created an ecosystem that fosters economic growth. With a trade surplus of 21.3 billion euros in exports, the region lies in second position among French exporters, with a GDP of 81.7 billion euros. With the support of its Regional Economic Agency, Bourgogne-Franche-Comté provides a fertile environment in terms of know-how for flourishing industry and continues to distinguish itself for the excellence of its skills. The region also stands out as the 2nd largest agricultural region in mainland France in terms of value added, with 63% of the region eligible for a PDO/PGI quality label and 156 PDO/PDO/PGI labels.
Land of research, innovation and sustainable development
4 national public research organisations

Bourgogne-Franche-Comté has four national public research organisations, the CEA (French Alternative Energies and Atomic Energy Commission), the CNRS (French National Centre for Scientific Research), the INRA (French National Institute for Agricultural Research), and lastly INSERM (French National Institute of Health and Medical Research).
The region has resolutely invested in medical science of the future, with its four healthcare establishments: the EFS (Bourgogne-Franche-Comté French Blood Service), the CGFL (Georges-François-Leclerc Centre), Dijon University Hospital, and Besançon Regional and University Hospital. It has thus created a cutting-edge technical and scientific environment in which French medical industry leaders, including the Urgo Group, have established themselves.
A "Communauté FrenchTech" certified regional ecosystem

Bourgogne-Franche-Comté's ambition is to stimulate its ecosystem, encourage initiative and collaboration, and help enhance France's reputation. The region would like to open and extend its networks, contribute its skills to the development of its economic activity and enable future world tech leaders to grow there. With this aim in mind, a programme has been created with a focus on several areas: FoodTech, HealthTech, FinTech, Smart City, IoT and Industry 4.0.

TIGA (Territoires d'innovation de grande ambition) – the "highly ambitious territories" label
Following a call for projects launched in November 2018, 2 areas of innovation in Bourgogne-Franche-Comté were selected. These areas benefited from a package of 450 million euros in subsidies and investment, enabling them to fund breakthrough changes in the fields of digital technology, energy, agro-ecology, mobility and skills:
A "sustainable food system by 2030" model area
backed by Dijon Métropole
Transformation of an industrial area – creation of an ecosystem promoting innovation and the development of green technologies backed by the Pays de Montbéliard urban area and Grand Belfort
Effective collaboration between industry, training and research
There is strong collaboration between industry, training and research in Bourgogne-Franche-Comté region. 6 competitiveness clusters, actively striving to achieve various objectives, are at work in the Region:
Vitagora Bourgogne-Franche-Comté Île-de-France cluster (660 members): united around a concept of well-being through food: flavour, caring for health, and environmental protection.
Bourgogne-Franche-Comté Grand-Est Vehicle of the Future competitiveness cluster (435 members): solutions for future vehicles and mobility: car parts, electric/hydrogen vehicles, smart and driverless cars, associated infrastructure and services, mobility as a service, industry 4.0.
Nuclear Valley (360 members): home to the full range of engineering expertise needed to produce nuclear energy and to manufacture the sector's key components.
Microtechnology cluster (274 members): Positioned in high added-value sectors such as biomedicine, security, space-defence-aeronautics, electronic money, and energy.
Polymeris (more than 544 members): promotes development of the plastics sector, with an international focus.
INFR@2050 (new cluster to be accredited in 2023): Contributes to achieving carbon neutrality in the infrastructure construction and regional development sector. It is supported by the clusters Écorse TP (Bourgogne-Franche-Comté), Indura (Auvergne Rhône-Alpes) and IREX (Institut pour la Recherche Appliquée et l'Expérimentation en Génie-Civil).
4 national research organisations
CEA (the French Alternative Energies and Atomic Energy Commission)
The CEA is a major stakeholder in research, development and innovation, and is involved in four areas: defence and security, nuclear and renewable energies, technological research for industry, and basic research (science of matter and life sciences).
CNRS (French National Centre for Scientific Research)
CNRS (French National Centre for Scientific Research)
The CNRS is a public research laboratory overseen by the Ministry of Higher Education, Research and Innovation. It is a multidisciplinary organisation covering the entire scientific spectrum: human and social sciences, biology, nuclear physics and particle physics, information sciences, engineering sciences and systems, physics, mathematics, chemistry, earth and space sciences, ecology and the environment. Laboratories include: ICB, CSGA, LE2I, Femto-ST Institute, ThéMA, LERMPS, etc.
The INRA (French National Institute for Agricultural Research)
INRA is a multidisciplinary research centre focused on agro-ecology, taste and food. Our regions are central to society's concerns and the challenges of the future.
INSERM (French National Institute of Health and Medical Research)
As the only French public research organisation focused exclusively on human health, INSERM provides strategic, scientific and operational coordination for biomedical research.
4 healthcare facilities
Dijon University Hospital
Dijon Bourgogne University Hospital is the region's leading cancer care establishment and benefits from cutting-edge technical facilities and expertise in numerous specialities such as the digestive system, pneumology, and paediatric haematology-oncology. It also works in other areas of research including:

Lipid metabolism, inflammation, diabetes and vascular risk
Functional and molecular imaging
Genomics of developmental anomalies
Sensory, motor and cognitive impairments, etc.

Besançon Regional and University Hospital
The regional and university hospital in Besançon focuses its research work on 4 areas:

Technological innovation
Biotherapies: immunotherapy for cancer, transplantation and grafts, cell & genetic therapy
The INCREASE university-hospital federation on inflammatory diseases
Risks and vulnerability: infectious, neuro-cardiovascular, ethics/medical progress and vulnerable populations, quality of life.

CGFL (Centre Georges-François Leclerc)
the CGFL is France's second-largest centre in terms of the inclusion of patients in clinical research. The Centre focuses its research on the following areas:

Personalised medicine in medical oncology
Functional and molecular imaging
Radiotherapy and radiobiology
Epidemiological research and quality of life
The Bourgogne-Franche-Comté French National Blood Service (EFS)
cellular engineering, medical biology, cord blood and tissue bank, research, teaching, and the production of innovative medical treatments. Certified industrial integrator of the Great Biopharmaceuticals Challenge:
Grand Est Cord Blood Bank
Grand Est Transfusion Biobank
Training courses
The University of Bourgogne-Franche-Comté
Sciences Po, Dijon campus

European option focusing on Central and Eastern Europe > 200 students
Engineering schools
Institut Agro Dijon (National Higher Institute for Agronomic Sciences, Food and the Environment)

>

1,284 students
Arts et Métiers (Arts and Crafts college)

>

Cluny et Chalon-sur-Saône, 540 students
ENSMM (General Engineering University specialising in Mechanics and Microtechnology) > Besançon, 780 students
ESEO (Higher School of Electronics West) > Dijon
ESIREM (Higher Engineering Institute specialising in IT, Robotics, Electronics and Materials) > Dijon, 655 students
ESTP (Specialist School for Public Works) > Dijon
ISAT (Higher Institute of Motor Vehicles and Transport) > Nevers, 840 students
ISIFC (Specialist School of Engineering in medical devices) > Besançon, 170 students
ITII Bourgogne (Institute of Industrial Engineering Techniques) > Auxerre, 227 apprentices
UTBM (Belfort Montbéliard University of Technology) > 2,790 students
Business schools
BSB (Burgundy School of Business) > Dijon, 3,000 students
ESTA (Higher School of Technology and Business) > Belfort, 330 students
Other training facilities
Campus Mecateam (railway maintenance) > Montceau-les-Mines
CESI (Centre for Higher Industrial Studies) > Dijon
CLA (Centre for Applied Linguistics) > Besançon
ENAC (National School of Civil Aviation) > Saint Yan
ENFP (National School of Public Finance) > Nevers
ENG (National Court Registry School) > Dijon
ENIL (National Dairy Industry School) > Besançon Mamirolle, Poligny
ENSA (Higher National School of Arts) > Dijon
ESPERA Sbarro – UTBM (automotive) > Montbéliard
IUVV Institut Jules Guyot (Vines and Wine) > Dijon
Training courses in Mechanisms and Luxury Industries > Vesoul/Besançon
Centre of Excellence in robotics and industrial vision > Dijon and Chalon-sur-Saône
French region with the 2nd highest number of UNESCO World Heritage Sites
8 UNESCO World Heritage Sites
The architectural heritage of Bourgogne-Franche-Comté is exceptionally rich. The region is home to eight UNESCO world heritage sites, including the Saline Royale at Arc-et-Senans; the chapel of Notre Dame du Haut (Our Lady of the Heights) by Le Corbusier at Ronchamp; Vézelay Basilica, a masterpiece of medieval art magnificently restored by Viollet-le-Duc in the 19th century, perched high on a mound named "the eternal hill"; and the citadel of Besançon which forms part of the network of fortifications built by Vauban:
– Cistercian Abbey of Fontenay
– Vézelay Basilica and Hill
– The Citadel of Besançon (the Vauban fortifications)
– Ronchamp Chapel (Le Corbusier)
– The "Climats", Terroirs of Burgundy
– The Great Saltworks at Salins-les-Bains and the Royal Saltworks at Arc-et-Senans
– La Charité-sur-Loire Priory (on the St James of Compostela Route in France)
– The lakes of Chalain and Clairvaux (prehistoric pile dwellings)
Live entertainment
Live entertainment is not to be outdone, with the Belfort Eurockéennes, crowned best festival of world music at the last Arthur Awards ceremony in London, the musical show equivalent of the Oscars, and the street theatre festival Chalon dans la rue which is well-known to programmers who come here to do some shopping after the Avignon festival.
A region of great wines
Those who love the finer things in life are absolutely right! In the rankings of the most expensive wines in the world, the Burgundy Romanée-Conti holds first place. Burgundy's vineyards enjoy international renown with their 33 grands crus which include: Aloxe-Corton, Chablis, Gevrey-Chambertin, Ladoix-Serrigny, Montrachet, Vosne-Romanée, etc. The Jura vineyards extend over some 2,000 hectares with 4 geographic AOCs (Arbois, Côtes-du-Jura, Château-Chalon, and l'Etoile) and 3 AOC products (Macvin, Marc du Jura, and Crémant du Jura).
Highly rated, award-winning gastronomy
50% of hotel rooms have four or five stars and 35 restaurants bear the highest Michelin Guide distinction. A taste for refinement and a certain quality of life is a tradition in Burgundy, reflected in the many unforgettable experiences on offer, such as a river cruise on the Nivernais Canal or a trip along the Canal du Centre which links Bourgogne-Franche-Comté with the Loire and the Mediterranean.
35 Michelin-starred restaurants (or 31 above!)
156 protected denominations of origin (AOC/IGP)
The International City of Gastronomy and Wine in Dijon
3 wine discovery centres: Beaune, Mâcon and Chablis
5 "Outstanding Taste" sites
Not forgetting the OIV (International Organisation of Wine and Vine) which, as has just been announced, will be transferred to Dijon.
The International City of Gastronomy and Wine
The International City of Gastronomy and Wine in the centre of Dijon covers 1,750 square metres of exhibition space, providing the key to understanding the "Gastronomic meal of the French". The site is included in the intangible cultural heritage of humanity list and is also a hub of economic, commercial and tourist development celebrating gastronomy and wine.